Out of Mind: Mode, Mediation, and Cognition in Twenty-First-Century Narrative [forthcoming October 2021]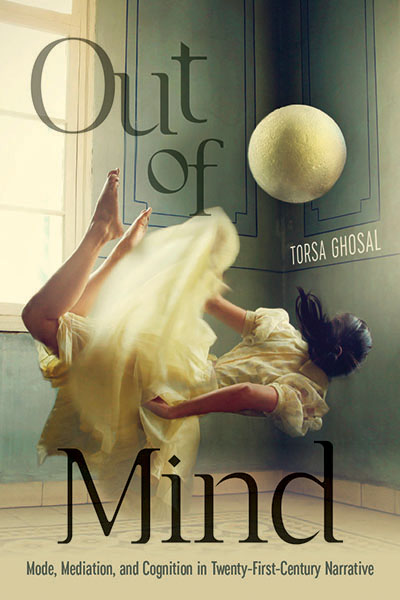 Pre-order: The Ohio State University Press, Bookshop, Amazon
What is the relationship between aesthetic presentation of thought and scientific conceptions of cognition? Out of Mind: Mode, Mediation, and Cognition in Twenty-First-Century Narrative answers this question by offering incisive commentary on a range of contemporary fictions that combine language, maps, photographs, and other images to portray thought. Situating literature within groundbreaking debates on memory, perception, abstraction, and computation, the book shows how stories not only reflect historical beliefs about how minds work but also participate in their reappraisal.  
"Torsa Ghosal's Out of Mind urges us to be more open-minded (pun intended) and embrace explanatory pluralism for how minds work."
Sue Kim, author of On Anger: Race, Cognition, Narrative
"As cognitive literary studies moves more adeptly across narrative media, Torsa Ghosal's Out of Mind admirably takes media-conscious, multimodal fictions into the fold, exploring the ways in which narrative fiction culturally and historically encodes what we think we are doing when we perceive, map, remember, and forget our own lived experiences."
David Ciccoricco, author of Reading Network Fiction
Find out more about the book here.
---
Open Couplets
An experimental novella
Buy worldwide: Amazon  | Buy in India: Flipkart; Juggernaut; Amazon
"…Reading like a well-constructed puzzle that darts back and forth in time, this book challenges readers to have a crack at it"
"The complex plot laid out with lyrical writing makes it impossible for the readers to not lose themselves within the pages. From cross-dressing poets to gay social activists, the book is filled with characters that challenge and broaden the idea of gender expression of South Asian communities."
"Constructing the narrative primarily through a series of emails, Ghosal brings readers in with powerful concision."
"Debut novelists slated for 2017 that are already being spoken of highly include Prayaag Akbar's Leila, George Saunders' Lincoln in the Bardo, Tor Udall's A Thousand Paper Birds, Torsa Ghoshal's Open Couplets and Devi Yashodharan's novel, Empire."
Find out more about the novella here.